Memorial Forest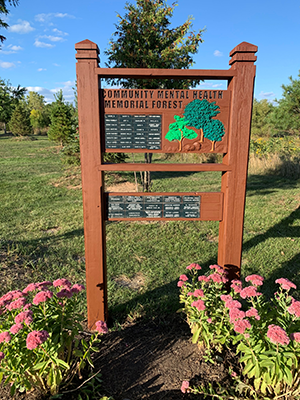 The Memorial Forest was founded in 2009 at the Glenridge Quarry. It's a way to remember and honour individuals with mental illness who have passed away.
The site features mature trees and an inscribed stone. A plaque reflects the individuals being honoured and the site's sponsors.
The Memorial Forest seeks to lessen the stigma for people with mental illness, and to promote greater understanding and compassion from the community as a whole. It's important to recognize family and friends who have passed on and acknowledge the courageous battle they fought.
Annual Vigil
Each year, Niagara Region Mental Health hosts a Memorial Forest vigil on the first Thursday in October during Mental Illness Awareness Week.
Mental Illness Awareness Week is sponsored by the Canadian Alliance on Mental Illness and Mental Health.
Donations
Your donations help to maintain the Memorial Forest site and educate the community about mental illness.
Ways to Donate
Buy a plaque for $20 that memorializes a family member
Make a financial or in-kind contribution
To make a donation, contact:
Heather Gillespie
Manager, Niagara Region Mental Health
905-688-8248 ext. 7144
Email Heather Gillespie
Thank you to the generous donors, local businesses, sponsors and volunteers who have contributed to the Memorial Forest. Without you, the site would not be possible.