Memorial Forest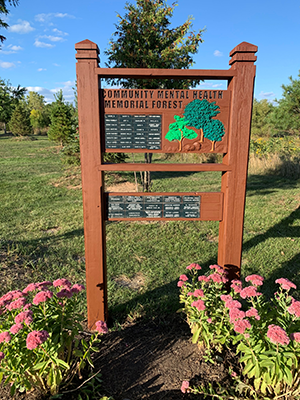 Founded in 2009, the Memorial Forest seeks to lessen the stigma around mental illness and promote greater understanding and compassion from the community as a whole.
The site is located at the Glenridge Quarry Naturalization Site at 1860 Sir Isaac Brock Way in St. Catharines. It features mature trees, an inscribed stone and plaques that honour family and friends who have passed on after battling mental illness.
We want to provide an opportunity to share stories of hope and success as told by individuals and family members living with mental illness.
Donations and Name Plates
Financial donations help with the maintenance of the Memorial Forest and educating the community about mental illness. Name plaques to memorialize a family member of friend can be purchased for $20. If you are interested in donating or purchasing a name plate, please call 905-688-2854 ext. 7353 or email Niagara Region Mental Health.
Thank you to the generous donors, local businesses, sponsors and volunteers who have been involved in making the Memorial Forest a reality.
Annual Memorial Forest Vigil - Mental Illness Awareness Week
Every October, a Memorial Forest Vigil takes place on the Thursday during Mental Illness Awareness Week.
The 2021 Memorial Forest Vigil will be held on:
Date:

Thursday, Oct. 7, 2021
More details will be posted during later summer
You can view the 2020 Virtual Memorial Forest Vigil below.
The Memorial Forest Committee welcomes those in our community who would like to visit the site and honour those who have battled with mental illness and are no longer with us.
Wear a Green Ribbon for Mental Health Awareness
Green signifies new life, new growth and new beginnings.
The green ribbon has become a symbol for raising public awareness about mental illnesses, bettering the lives of those with mental health challenges and showing support to those individuals and their families.
Wear a green ribbon to show your support for mental health awareness!
Share a Story of Recovery
One way to help end the stigma around mental illness is to share a story about your personal experiences with mental health challenges. It can also help in your own recovery and provide encouragement and support to others with similar experiences.