Municipal Class Environmental Assessment
Regional Road 55 (Niagara Stone Road)
From Regional Road 100 (Four Mile Creek Road) to East West Line and
From Concession 6 Road to Crossroads Public School
In the Town of Niagara-on-the-Lake
The Study
Niagara Region and the Town of Niagara-on-the -Lake will be undertaking improvements along Regional Road 55 (Niagara Stone Road), from Concession 6 to Regional Road 100 (Four Mile Creek Road). The works are scheduled to commence in the spring of 2017 with the majority of construction anticipated to be complete by July 2017. Surface asphalt paving and additional street lighting will be completed in the fall of 2017 for the section between Line 2 and Regional Road 100 (Four Mile Creek Road). The works follow the Preferred Alternative detailed in the Municipal Class Environmental Assessment and Preliminary Design Study for Niagara Stone Road that was filed in 2015. The proposed improvements include road reconstruction to an urban cross section from Cross Roads School to Concession 6. This section also includes a new storm sewer, concrete sidewalk and multi-use pathway. New asphalt and roadway illumination upgrades will be completed on the entire section. In order to reduce disturbances to traffic and potential impacts on businesses in the area, one lane of traffic will be maintained at all times, and access to driveways will be maintained where ever possible.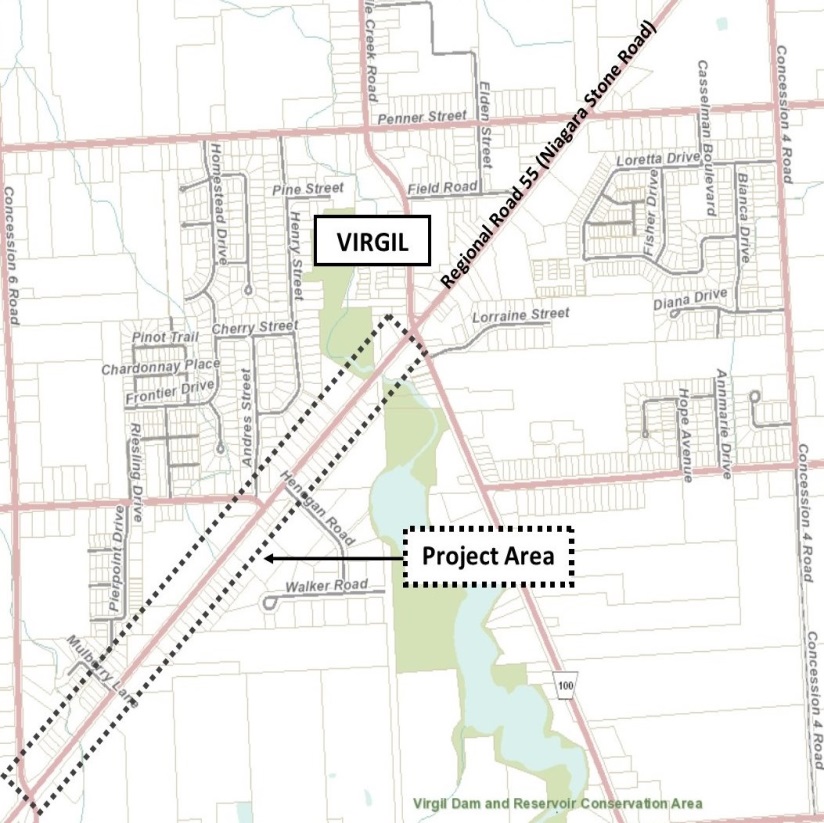 Public Information Centre
The Public Information Centres (PIC) is planned for this study. The PIC will be held on:
Date: Wednesday, March 22, 2017
Time: 5 - 7 p.m.

Location:Niagara-on-the-Lake Community Centre
Mori Room
14 Anderson Lane, Niagara-on-the-Lake, ON
The purpose of the PIC is to provide local area residents and businesses with the opportunity to view the construction drawings and is intended for information purposes only. The PIC will be held as a "drop-in style" forum during which staff from Niagara Region and Urban & Environmental Management Inc. (the Region's engineering consultant) will be available to answer questions and discuss the project. A formal presentation will not be made.
Mr. Steve Brant, P. Eng.
Consultant Project Manager
Urban & Environmental Management Inc.
4701 St. Clair Avenue, Suite 301
Niagara Falls, ON L2E 3S9
905-371-9764 ext 242
Fax: 905-371-9763
SBrant@uemconsulting.com
Mr. Michael Wilson, A.Sc.T.
Project Manager Transportation Engineering
Niagara Region
1815 Sir Isaac Brock Way
Thorold, ON L2V 4T7
905-980-6000 ext 3183
Fax: 905-685-0013
Michael.Wilson@niagararegion.ca
If you require any accommodation for a disability in order to attend and participate in this PIC, please contact the Accessibility Advisory Coordinator at 905-980-6000, ext. 3252 or accessibility@niagararegion.ca to make the appropriate arrangements.
Personal Information Collection Personal information collected at public meetings or submitted in writing is collected under the authority of the Municipal Act, 2001, and will be used by members of Regional Council and Regional staff. The written submissions including names and contact information and the report of the public meeting will be made available to the public. Questions should be referred to Ralph Walton, Regional Clerk at 905-980-6000 ext. 3220.
This notice was first issued March 16, 2017.