Reconstruction of Regional Road 71 (St. David's Road)
Between Highway 406 Ramp and Regional Road 56 (Collier Road/Burleigh Hill Drive)
In the City Of Thorold and the City Of St. Catharines
The Study
Niagara Region has initiated a Municipal Class Environmental Assessment (Class EA) Study for Regional Road 71 (St. David's Road) corridor between the Highway 406 Ramp and Regional Road 56 (Collier Road/Burleigh Hill Drive) in the City of Thorold and the City of St. Catharines. The study is being undertaken to address existing road conditions and intersection safety, and to implement active transportation facilities that will tie in with the active transportation facilities being developed on the Highway 406/Highway 58 overpass structure by the Ministry of Transportation.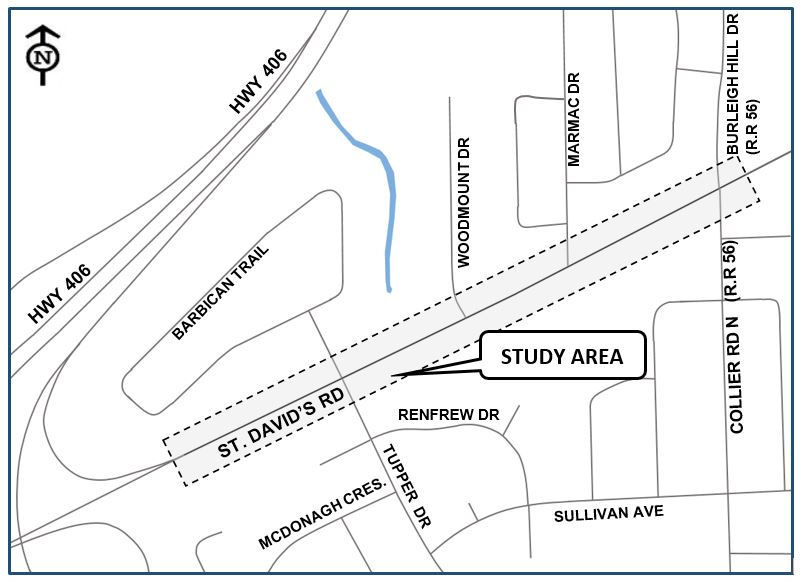 Public Information Centre
Consultation with interested stakeholders (public and agencies) is a key component of the study. You are invited to attend the first Public Information Centre (PIC) for this study, which is an opportunity for the public to review project information and issues, and ask questions or discuss comments with members of the project team. Representatives of the Ministry of Transportation Ontario (MTO) will also be attending the PIC. The PIC is scheduled for:
Date: Wednesday, March 22, 2017
Time: 5 - 8 p.m.

Location: Niagara Region Headquarters - Cafeteria
1815 Sir Isaac Brock Way, Thorold, ON
If you have any comments/questions or you wish to be added to the project mailing list, please contact either of the following project managers:
Kumar Ranjan, P.Eng., PMP
Manager, Transportation Systems and Planning
Niagara Region
1815 Sir Isaac Brock Way, PO Box 1042
Thorold, ON L2V 4T7
905-980-6000 Ext 3467
kumar.ranjan@niagararegion.ca
Jaime Garcia, P.Eng., Ph.D.
Consultant Project Manager
CIMA Canada Inc.
3027 Harvester Road, Suite 400
Burlington, ON L7N 3G7
289-288-0287 Ext. 6814
Jaime.Garcia@cima.ca
Personal information collected at public meetings or submitted in writing is collected under the authority of the Municipal Act, 2001, and will be used by members of Regional Council and Regional staff. The written submissions including names and contact information and the report of the public meeting will be made available to the public. Questions should be referred to Ralph Walton, Regional Clerk at 905-980-6000 ext. 3220.
If you require any accommodations for a disability in order to attend and participate in this meeting, please contact the Accessibility Advisory Coordinator at 905-980-6000, ext. 3252 or email accessibility@niagararegion.ca to make the appropriate arrangements.
This notice was first issued March 2017.