Getting Tested for Chlamydia and Gonorrhea
Niagara Region residents can get tested for Chlamydia and Gonorrhea at their local Lifelabs instead of seeing a doctor or nurse. It really is as easy as peeing in a cup.
If you are having severe pain during sex, lower abdominal pain (females) or testicular pain/swelling (males), visit your nearest sexual health centre, walk in clinic or family doctor for immediate medical attention.
Do you need Testing?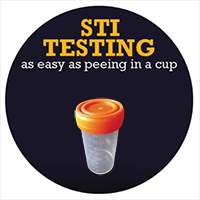 You should get tested if you have engaged in any of the following:
Vaginal sex without a condom
Anal sex without a condom
Oral sex without using a condom or dental dam
Sharing sex toys
Getting Tested
Follow the three steps below to get tested at your nearest Lifelabs location:
Fill out the patient information section on the lab form, including your name, address and phone number, and print a copy. Without all patient information, your test may not be processed. Do not change the form in any way, other than where you can enter your personal information.
Bring the requisition and your health card to the nearest Lifelabs location in the Niagara Region
Have a full bladder when you go to the lab, as you will have to give a urine sample
Getting your Results
It takes approximately seven business days for test results to return.
If you test positive for Chlamydia or Gonorrhea a Public Health Nurse will contact you at the number provided.
Stay Informed
Most people with Chlamydia and Gonorrhea have no signs or symptoms
In the last two years Niagara's Gonorrhea infections have increased by over 90%
Left untreated Chlamydia and Gonorrhea can cause infertility and other serious health problems
Both infections are easily treated with free antibiotics
If you would like to speak to a nurse about a Sexual Health issue, call 905-688-3817 or 1-800-263-5757 between the hours of 8:30 a.m. - 4:30 p.m., Monday - Friday.