Information for Service Providers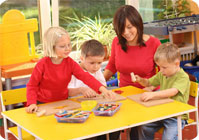 New funding has been announced and will be coming in 2015 for wages of registered early childhood educators, program staff and licensed home child care programs.
Check back often as we will provide additional information when available.
Child Care Wage Enhancement
The Ministry of Education announced grant money to support a wage increase for registered early childhood educators in licensed child care, and home child care providers contracted with a licensed agency.
Wage Enhancement Funding Policy
Wage Enhancement Application / (Français)
Home Child Care Enhancement Application
Early Years Act